G
LASGOW
C
OLORECTAL
C
ENTRE
Scotland's Best Private Colorectal Surgery & Colonoscopy Clinic
info@colorectalcentre.co.uk
If you have any questions, call Catherine on 0735 506 6597
Book an Appointment

© Glasgow Colorectal Centre. All Rights Reserved


Book an Appointment
Any questions? Call Catherine on 0735 506 6597
Info@colorectalcentre.co.uk
The following is a selection of unsolicited thank you letters received by our surgeons. Identifiers have been removed. Patients were treated by Richard Molloy and Ahmed Alani at the Glasgow Colorectal Centre/Ross Hall hospital and their NHS hospitals in Gartnavel General Hospital & Queen Elizabeth University Hospital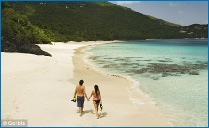 My dearest wish was that I would live long enough
for the grandchild due in September to be four.
Immortality is your grandchildren remembering you
CB August 2012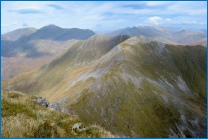 Stob Coire a' Chairn by Kinlochleven
I'm writing to thank you for all you did for my mother who passed away peacefully last week at the age of 81. As you know by the time she was presented to you her bowel cancer was well advanced and had spread to her other organs so unfortunately the end was never in doubt.
However, your surgical intervention gave us another 12 months with our mum who we all loved dearly, it was valuable time and in the end she died peacefully at home having been nursed by her family through the last weeks of her illness.
She was a character and held you in the highest regard; she even argued vehemently with Dr. XXXX that you were the only person she'd listen to for advice, causing no end of consternation at her last oncology appointment! I wonder if you could also pass on our thanks to your McMillan Nurse who also was a great support in a difficult time and who my mother loved. Thank you again for all you did for her. TMC & family May 2013
I attended your Colonoscopy clinic last Friday morning (I think I was your first patient of the morning) and wanted to drop you a note to thank you and all the staff in the Unit for making the whole experience so relaxed, easy and much less stressful than I had imagined it might be. JH February 2013
I am writing to express sincere thanks to you and your team following the above operation. It appears to be a success but was certainly much tougher than I anticipated. What is not in doubt is the genuine kindness, care and concern shown me by you and your medical colleagues and the nursing staff. If I did not always appreciate this at the time, I hope you understand. JR November 2013
You have probably seen the Larson ca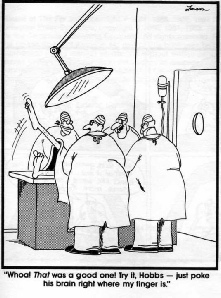 rtoon on the front many times before. I'm sorry. I couldn't resist it. I would like to say how grateful I am for all your wonderful skill and kindness during the spells I have spent in your care. I really appreciate you having pulled me out of the trajectory of the bullet that was decidedly speeding my way in February 2011, and then having put me back together again in May this year. Thank you ! AM February 2013
Just wanted to thank you and your wonderful staff for the excellent care & attention I received during my recent stay. I have no doubt that you saved my life and the professionalism of the nurses and the lovely atmosphere in the ward almost certainly contributed to my recovery. Carry on the good work with grateful thanks. MA October 2013
Thank you so much for making me well. With kind regards BMcC 07 2013
PS Thank you for making my husband better. EMcC October 2013
I just wanted to thank you very much for operating on me the other day at short notice. I had been in such pain since Thursday the previous week and quite frankly was becoming so ill. Please also pass on my gratitude to Mr. XXXX as it appears to me that once he had seen me things progressed at great speed. Kind regards SA June 2013
Thanks again for looking after "the Auld Yin" AO October 2013
Thank you for caring for me and removing the cancer. The outcome was very much down to the excellent surgery and care I received from you and your team. KJ February 2013
Thanks to you & your staff for the care and kindness I have received over the past 3 years. I feel well and look forward to a holiday in the sun. JT July 2013
It is three weeks today since I was operated on by yourself for a hernia described as largish. The wound has healed nicely and I was not in too much pain. I am writing to thank you & your staff for the excellent attention I received & as I cannot single out anyone in particular as they were all very kind, I would be grateful if you could pass on my thanks. DR May 2013
Thanks for all you did this year. It can't be a nice job to do. JT January 2013
It is with much pleasure and a great relief that I say Thank you to you & your team for the care, skill & attention which you gave me over the last four years. PM June 2013
On XXXX, I was admitted for a laparoscopic cholecystectomy. This procedure was done on XXXX and I was discharged the following day. The operation was a great success. No after effects at all & now I can enjoy my food. When I am out enjoying a meal with friends I always raise my glass to Mr. XXXX This letter of thanks is overdue but most sincere. LL January 2013
Thank you very much for you recent letter confirming your conclusions following my colonoscopy and my appointment with you on XXXXX. I am grateful to you for taking the time and trouble to write to me and I appreciated the reassuring tone of your letter. On my two visits to the hospital I could not have received better care and I should like to thank you and all your colleagues very much for looking after me so well. RE January 2013
The picture is of group of ramblers who have just climbed a hill called Stob Coire a' Chairn by Kinlochleven, 982 metres high.
I was able to guide the party to the summit, 11 hours away from a loo — no underwear accidents! Thank you for the wonderful care over the last 6 ½ years and for "MY BIGGER PICTURE". AS January 2013
Thank you for your extreme kindness, expertise and efficiency. It has been much appreciated. With all good wishes AMD 04 2013
I just wanted to drop you a note to let you know how much I appreciate the care and medical expertise you have given me over the last 14 months. I could not have been so positive throughout this illness if I had not had total confidence in you. Throughout this time you have treated me with respect and sensitivity which was really appreciated. CP 2013
When I had my bowel cancer operation in May 2007, my dearest wish was that I would live long enough for the grandchild due in September to be four. Immortality is your grandchildren remembering you. XXXX will be five next month, and I'll be celebrating and looking forward to other birthdays. That I am here and well is due to your professional skill, and the care you and your team and your Beatson colleagues have given me. CB August 2012
There are no words available to fully express our gratitude for the help and kindness you have given us over the past few weeks. The medical profession has a bright future with people like yourself in charge. AH 2013
Just a short note to thank you for looking after my mum. She is doing well and can't praise you highly enough. You were great with all of us. SB 2013
Thank you, thank you, thank you! ID 2013
Thank you and all of your team for saving my life. JS 2013
Just a short note to thank you for looking after my mum. She is doing well and can't praise you highly enough. You were great with all of us. SB 2013
We're eternally grateful for everything you did for Mr. FR. Thank you so much from the R. Family
AR March 2013
We would like to offer our sincere thanks for the excellent care and attention which you have given our son during his treatment. We know that he had great confidence in your clinical judgement and felt reassured by your friendly, informative consultations, which certainly helped him to maintain a positive attitude throughout the experience. JB 2013
My wife, family and grandchildren join with me in thanking you for your wonderful professional skill and manner that you showed in the recent life-saving operation that you carried out on me. RN 2013
Just a short note to say first of all thank you for all your help and support thus far in regard to my fight against bowel cancer. The meeting with Mr XXXX last Thursday when he delivered my pathology results was a huge milestone for me on my journey and fight in vanquishing this disease, and I can't express my gratitude enough to him for the tremendous work he has done for me and my family in putting me a huge step further along the road to my objective of a full recovery. My words of thank you to him seem in so many ways inadequate given the enormity of the importance of success in the operation he performed on me. DN March 2014
Thank you so much for your professionalism and caring attitude in treating our daughter through her recent surgery at the Western Infirmary. We greatly appreciate the quality of care.
L & MC. Parents of XXXXX June 2014
Just a quick note to thank you for giving me my life back! The 8 weeks or so prior to seeing you were a catalogue of mis-diagnosis and extreme discomfort, and I'm so grateful to you for allowing me to be fully mobile again. There is one downside however. When my wife says my backside is my best feature, I have no option but to agree with her…. Thanks again. AL July 2014
I feel I do not have the words to adequately describe my gratitude to you.
Since my first consultation visit, you have treated me royally, and I have had implicit trust in you. I'm sure you understand that it's been a very difficult three months both for my family and myself, but it was always comforting to know that I was in the hands of true experts - with particular reference to your own gift for surgery. XXXXX, the children and I are so thankful to you.
MM August 2014
Just a wee note to thank you for sorting me out so well during my recent illness. You and your team were extremely reassuring at my lowest ebb.
I am pleased to say I feel pretty well at the moment and the wound has healed perfectly. Wishing you all a very Happy Christmas and New Year CS December 2014
I would like to say thank you very much for your expertise and support on my journey to get a successful ileo-anal pouch but I feel that isn't enough. You have helped me so much and no words can express how much I appreciate your help and skill. Despite my body constantly bringing about infections and other complications, you have changed my life for the better. I will always be grateful for that. SM December 2014
Merry Christmas and a Happy New Year. Thank you. It is 9 years now since my operation and all is well. CH December 2014
I remember you with great gratitude - and not just at Christmas. JC December 2014
Thank you from the bottom of my heart for looking after me. AC March 2015
This afternoon I was treated in the endoscopy unit. Please convey my thanks to all the team - so kind, gentle & caring. I feel well, Relieved that there no further appointment necessary, only with my GP.
Again my sincere thanks to you and all your team. Sincerely PM March 2015
My family and I are indebted to you for the excellent care and treatment I have been given over the last year or so.
Everyone and everything that is important to me has become even more precious and I thank you for giving me the chance to enjoy them more dearly. LK December 2015
It's only now, looking back that I realise that I am more than fortunate to be here this Christmas. Thanks you for all your skill when it was most needed. RFD December 2015
I sincerely thank you for all you have done for me. I appreciate your professionalism, flexibility in arranging quick surgery and follow-up appointment. I am glad to have the opportunity to choose you and BMI Ross Hall for my inguinal hernia surgery. A big Thank you to you and your team!
SA June 2016