Glasgow Colorectal Centre
For more information contact Catherine
0735 506 6597
e-mail: info@colorectalcentre.co.uk
Book Appointment

Book Appointment
Ahmed Alani: Consultant Surgeon
Ahmed Alani is a Consultant Colorectal Surgeon and General Surgeon at Queen Elizabeth University Hospital Glasgow and the Glasgow Colorectal Centre based at Ross Hall Hospital. He is also an honorary Senior Clinical Lecturer at Glasgow University.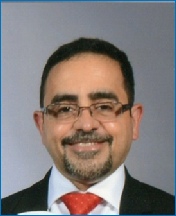 Mr Alani specialises in the robotic and laparoscopic management of colon and rectal conditions including bowel cancer and polyps, inflammatory bowel disease, prolapse, piles - haemorrhoids and hernia surgery. He also has been at the forefront in introducing Robotic Assisted Surgery for Colorectal cancer in the Queen Elizabeth University Hospital.
He graduated with honours in 1994 and went on to do his early surgical training in Ireland and subsequently moved to Glasgow where he completed his surgical training. During this time, he carried out clinical research and was awarded an MD higher degree from Glasgow University.
Ahmed specialises in modern minimally invasive techniques having undertaken an Ethicon fellowship in advanced laparoscopic colorectal surgery. He is also one of only a few surgeons in Scotland performing robotic colorectal cancer surgery.