G
LASGOW
C
OLORECTAL
C
ENTRE
Scotland's Best Private Colorectal Surgery & Colonoscopy Clinic
info@colorectalcentre.co.uk
If you have any questions, call Catherine on 0735 506 6597
Book an Appointment

© Glasgow Colorectal Centre. All Rights Reserved


Book an Appointment
Any questions? Call Catherine on 0735 506 6597
Info@colorectalcentre.co.uk
Graham MacKay is a Consultant Colorectal Surgeon and General Surgeon at Glasgow Royal Infirmary and the Glasgow Colorectal Centre based in BMI Ross Hall Hospital. Mr MacKay specialises in the management of colon and rectal conditions including bowel cancer and polyps, inflammatory bowel disease, faecal incontinence, prolapse, piles - haemorrhoids and hernia surgery.
After qualifying from Glasgow University, Mr MacKay carried out his surgical training in the West of Scotland before undertaking attachments at St Mark's Hospital, London, the Lahey Clinic, Boston, and the Cleveland Clinic, Ohio.
Graham MacKay specialises in modern minimally invasive techniques having undertaken an Ethicon fellowship in advanced laparoscopic colorectal surgery. He is also one of only a few surgeons in Scotland trained in sacral neuromodulation for the treatment of faecal incontinence.
Mr MacKay edited and wrote the Oxford Specialist Handbook of Colorectal Surgery and Landmark Papers in General Surgery. Mr MacKay also has a keen interest in surgical research and has published numerous articles in peer reviewed journals. As well as being an Honorary Senior Lecturer at Glasgow University, Mr MacKay is the Director of Surgical Education at the Royal College of Physicians and Surgeons of Glasgow.
Links: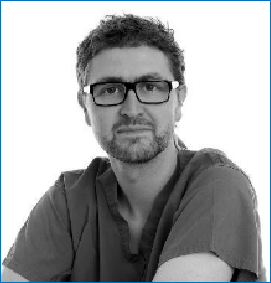 Graham MacKay:

Consultant Colorectal Surgeon